The 730 report did one of those inconclusive "things are great but they're not really" stories last week on Australian film. Included was an interview with George Miller on his decision to not shoot his US$200M Justice League (of America) project in Australia because it does not qualify for the 40% production offset…
Without a successful film (or any film for that matter) made under the new rebate scheme, this has become the most visible story in the Australian media regarding the new film offset legislation. I'm sure this is not the sort of publicity the bureaucrats who have come up with this bold new scheme wanted.
Essentially, George Miller isn't happy that his Justice League Mortal project is not eligible for the 40% producer offset and has decided to take it elsewhere. We're falling behind the Kiwis, Europeans, Asians etc he says. We're denying the industry of millions in jobs and letting skilled people go overseas. All because a bunch of bureaucrats have decided that this project isn't Australian enough.
Much of the spin on this has come down to (1) what should culturally qualify for this generous incentive; and (2) how do we attract and keep skilled people in Australia.
Culturally, the project is based on the DC Comics (does anyone else think this brand name is retarded? It's essentially "Detective Comics Comics") franchise "Justice League of America".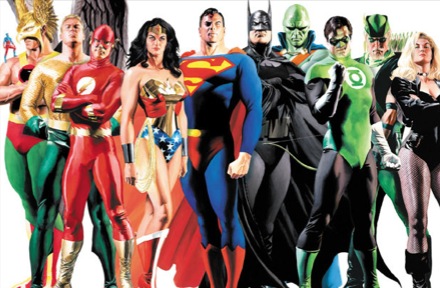 Does dropping the "of America" for "Mortal" in the title might make it Australian enough? You decide.
As a comic book property whose marquee characters are Batman, Superman and Wonder Woman, it has an air of inevitability of being made into a blockbuster feature. If not Miller, it would have eventually been made by a Michael Bay, Brett Rattner, Bryan Singer et al. Given this, the creative Australian impetus behind the decision to make this project is open to interpretation.
In terms of depriving Australians of a $200M blockbuster being made here, what I'm wondering is why the other aspects of the new rebate scheme haven't been discussed as much in the media? Alongside the 40% producer offset the Federal government is also offering a generous 15% location rebate an incentive to attract and keep the very people Miller is talking about losing.
On top of that, the Australian rebates are claimable on expenditure, whereas many others like Canada's is based on the spend on labour. You'd have to be going to some pretty obscure places in the world to get a better offer.
So if Justice League Mortal is still eligible for some very competitive incentives here, why not shoot it here? It might not be that much cheaper elsewhere.
So I think it's a bit unfair to apportion the blame of losing this $200M project to the Australian Government. However, as reported in The Australian (the one local newspaper that seems to have gotten it right), Miller reckons that contrary to industry rumour, the location rebate isn't enough to make shooting the film here viable, and only the 40% would have been enough to get the project up.
The only other question for me is how the rebate would have worked with Warner Brothers. The rebate comes back to the producer – ie Miller, who would usually use it to take a high equity position in the film. But I can't see WB giving Miller a 30% ownership in their Justice League film!
If they did, then that's a lot of money Miller could be getting, and using to make more potentially Australian films. And isn't that what we want after all?
Tags: Australian film, Feature Films, george miller, incentives, justice league, rebates